<!HEADER START>
<!TITLE START>

How To Choose The Right Smoke Detector For Your Home

<!TITLE END> <!SOCIAL SECTION START>
<!HEADER END>

<!******* 1 TAB NAVIGATION START******>
Back to the top
<!#450IMAGESTART>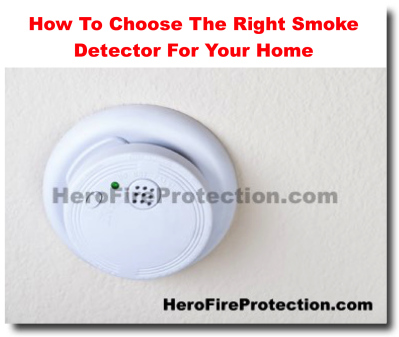 <!#450IMAGEEND>
<!#43START>
How to Choose the Right Smoke Detector for Your Home?
Smoke alarms are one of the best ways to warn your in the event of a fire. If properly installed and well maintained, smoke alarms can help minimize property damage and prevent injuries.
There are two main types of fire alarms:
Ionization sensing alarms -- These detect invisible fire particles that are associated with fast flaming fires and is the most smoke alarms found in the market. This type of alarm uses a small amount of radioactive material to ionize air in an internal sensing chamber. When smoke enters the chamber, the conductivity of the chamber air will decrease to a predetermined level, the alarm is set off.
What people don't realize is that the most common smoke detectors have an alarming rate of failure. Some can take as much as 30 minutes to activate. The ions can still flow through despite the particles in a real fire, such as black smoke, entering the chamber. These smoke alarms also have an expiration date so just because you change batteries regularly, the ions could have already expired.
Photoelectric sensing alarms -- These detect visible fire particles associated with slow smoldering fires.
Hero Fire Protection recommends using a photoelectric smoke alarm such as the OmniShield state-of-the-art smoke sensor because it will go off when black smoke is detected. Designed and engineered in the United States, OmniShield incorporates Texas Instruments micro-processors and RF modules to give your home a private network of wireless sensors, so if there is danger in one room, you are alerted in every room of the home. To learn more about our smoke detectors, click HERE.
Once you have your fire alarm installed, follow a few of these tips to ensure everyone's safety:
Have a fire escape plan and practice it with your family so that everyone, including your keiki knows what to do when the alarm sounds.
Install smoke alarms on every floor of your home such as in hallways and bedrooms to ensure that you will hear it when it goes off.
Replace smoke alarms every 10 years. If you don't know or are not sure how old your current alarm is, it's best to replace it.
Test your smoke alarm according to the manufacturer's instructions and replace the batteries as needed.
If you would like to have your home evaluated for fire safety, let Hero Fire Protection help! We are a full-service fire protection company in Hawaii dedicated in educating families about the devastating effects of home fires and other home safety issues. Contact us today to get a FREE fire safety assessment and receive a FREE emergency kit.
<!#43END>
ref no:34050
<!#999SPACERStart>
<!#999SPACEREnd>
<!#999SPACERStart>
<!#999SPACEREnd>
Please send questions about this website to
webmaster