<!HEADER START>
<!TITLE START>

Family Fire Safety Tips

<!TITLE END> <!SOCIAL SECTION START>
<!HEADER END>

<!******* 1 TAB NAVIGATION START******>
Back to the top
<!#450IMAGESTART>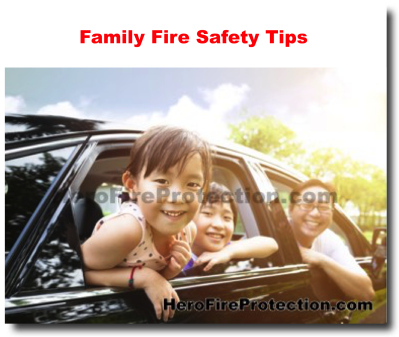 <!#450IMAGEEND>
<!#43START>
Family Fire Safety Tips


In case of a fire, everyone in the family or your household must react immediately in order to get to safety. Here are a few tips that you and your family members should consider to stay safe:


Practice your escape plan
– Make sure you practice your escape plan at least twice a year. Train all household members to know two ways to escape from every room of your home and know the family meeting spot outside of your home.


Install the Right Smoke Detector
- The most common smoke detectors have an alarming rate of failure. Some can take as much as 30 minutes to activate. Most smoke alarms found in the market are ionization smoke alarms. This type of alarm uses a small amount of radioactive material to ionize air in an internal sensing chamber. When smoke enters the chamber, the conductivity of the chamber air will decrease to a predetermined level, the alarm is set off. However, the ions can still flow through despite the particles in a real fire, such as black smoke, entering the chamber. These smoke alarms also have an expiration date so just because you change batteries regularly, the ions could have already expired.

Hero Fire Protection recommends using a photoelectric smoke alarm such as the OmniShield state-of-the-art smoke sensor because it will go off when black smoke is detected. Designed and engineered in the United States, OmniShield incorporates Texas Instruments micro-processors and RF modules to give your home a private network of wireless sensors, so if there is danger in one room, you are alerted in every room of the home. To learn more about this smoke detector, click
HERE
. Teach children and family members what smoke alarms sound like and what to do when they hear it.
No smoking
- Institute a "no smoking" policy in the house. If someone must smoke, do it outside. Keep matches and lighters high and out of children's reach in a locked cabinet.


Check for faulty wiring -
Homes with faulty wiring can cause fires, some red flags include lights dim if you use another appliance, frequently blown fuses or tripped circuits. If any of these occur in your home, it's best to have a licensed electrician come and inspect you house


Candle safety
- Candles are a huge fire hazard if left unattended, especially around children. Switch to flameless candles if possible.


Electronics and Outlets
– Inspect your appliances to make sure that each is on its own outlet as much as possible. For electronics, unplug them when they're not in use and avoid running extension cords under rugs. Make sure your lamps are all using bulbs with wattage equal to or less than what the manufacturer recommends as well.

If you would like to have your home evaluated for fire safety, let Hero Fire Protection help! We are a full-service fire protection company in Hawaii dedicated in educating families about the devastating effects of home fires and other home safety issues.
Contact us today
to get a
FREE fire safety assessment
and receive a FREE emergency kit.
<!#43END>
ref no:33976
<!#999SPACERStart>
<!#999SPACEREnd>
<!#999SPACERStart>
<!#999SPACEREnd>
Please send questions about this website to
webmaster